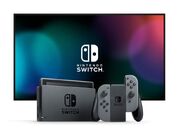 The Nintendo Switch (codenamed the NX in development) is Nintendo's upcoming hybrid video game console and their seventh major game console. Despite this classification, Nintendo markets the system mostly as a home console rather than a portable handheld system. It was officially announced on October 20, 2016, and is set to be released simultaneously on March 3, 2017 in Japan, the US, Canada, Europe, Hong Kong, and other territories. It will also cost US $299.99 in America, and JP ¥29,980 in Japan. A Nintendo Switch presentation containing more information about the system was live-streamed from January 12, 2017 at 11:00 PM to January 13, 2017 at 12:05 AM (EST). The Nintendo Switch is set for a hands on event on six separate Sundays in six different cities across America prior to its release date, along with Tokyo Big Sight, Japan. Pre-order retail reservations have started on January 21, 2017 in Japan.
Ad blocker interference detected!
Wikia is a free-to-use site that makes money from advertising. We have a modified experience for viewers using ad blockers

Wikia is not accessible if you've made further modifications. Remove the custom ad blocker rule(s) and the page will load as expected.